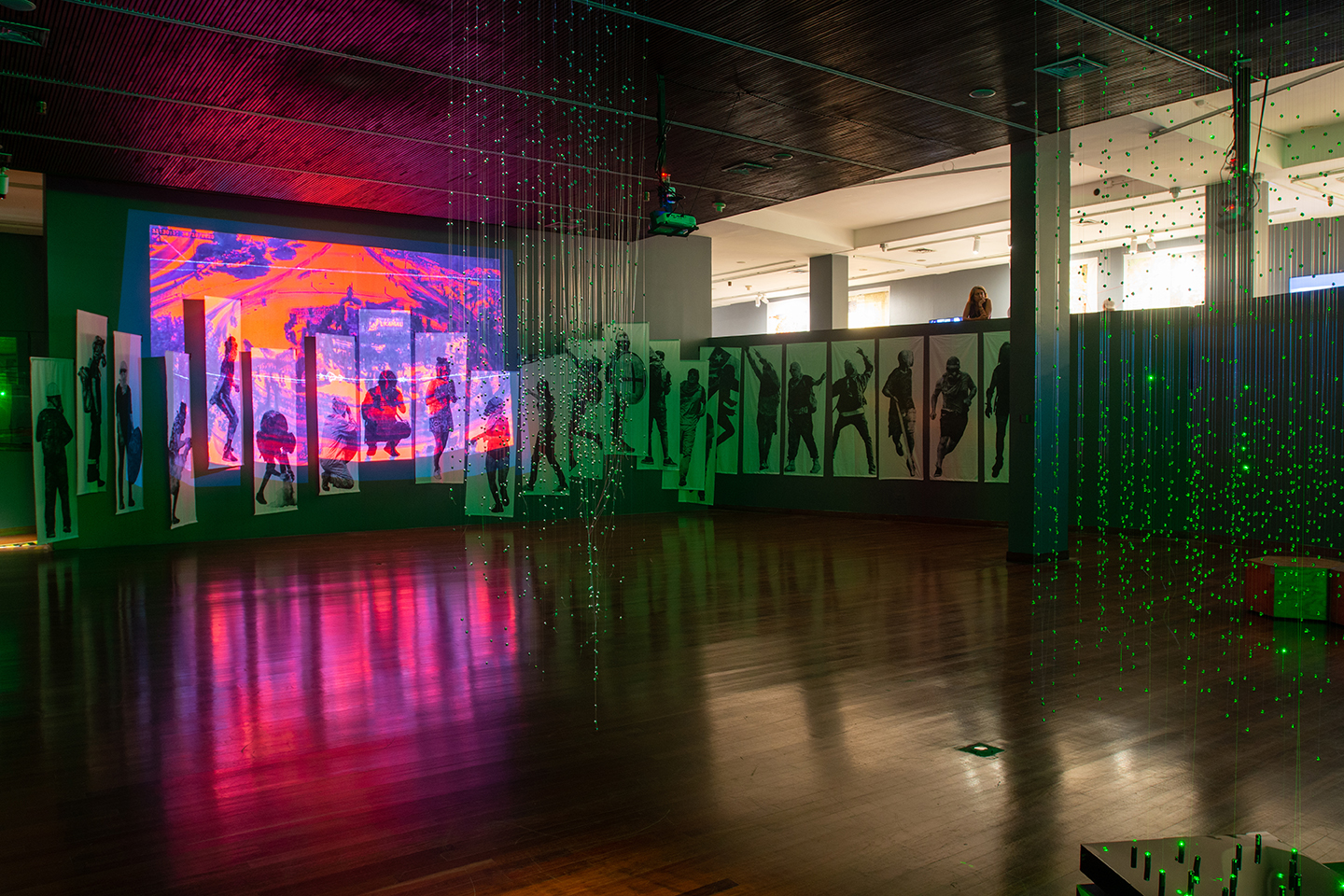 The term "syndemic" was introduced in the 1990s in medical anthropology to describe two or more sequential epidemics in a population with biological interactions, exacerbating the prognosis and burden of disease. Sindemia is Voluspa Jarpa's metaphor to analyze the social riots that occurred from October 2019 to March 2020 in Chile.
Voluspa Jarpa's Sindemia [Syndemic] is the winner of the inaugural edition of the Julius Baer Art Prize for Latin American Female Artists,' the first of its kind to be held in Latin America, whose mission is to honor the research of outstanding Latin American female artists.
Voluspa Jarpa's artistic practice focuses on a detailed analysis of archives and declassified documents emphasizing hidden narratives. She investigates notions of memory and trauma, often addressing the Chilean socio-political context and, by extension, Latin American.
Sindemia is a multimedia project that involves videos, musical pieces, installations, cartographies, animations, documents, reports, testimonials, photographs, paintings, and objects.
It is the result of a collaborative process of teams of women artists and intellectuals with different knowledge, both scientific and humanistic. Among others: the audiovisual director and performer Violeta Molyneux, the composer and singer-songwriter Príncipe Mapuche, the Orchestra of Native Instruments and New Technologies (OIANT) of Buenos Aires, the architect and artist Sebastián Tapia and the CIMA Gallery.
The exhibition also brings together the testimonial and creative participation of the Band 'Hacia la Victoria' made up of victims of ocular trauma, the testimony of mothers of prisoners of the revolt, the testimonies of disguised people of the revolt, the mathematical analysis of Claudio Gutiérrez, the documents plaintiff lawyers and human rights defenders. The artist, and this diverse group of collaborators, collected and shared experiences on protest, resistance, rebellion, and the consequences of Human Rights violations.
Voluspa Jarpa's work emerged in the Chilean cultural scene during the artistic renaissance of the 1990s after the military dictatorship. Today, Voluspa Jarpa is one of the most internationally recognized Chilean artists.
Sindemia delves into the sensitive events linked to one of the most intense social outbreaks in the history of Chile and points out the democratic consensus mechanisms in tension with authoritarian institutional practices, which cover up the ways of silencing citizen discontent.
Centro cultural Gabriela Mistral (GAM)
PROJECT FINANCED BY THE NATIONAL FUND FOR CULTURAL DEVELOPMENT AND THE ARTS, DOMESTIC FUNDING, 2023
CURATED BY: EUGENIO VIOLA
Cartografías de la Sindemia
(Cartographies of the Syndemic)
6 digital prints on large format fabric with mixed media interventions
2020
Los Estamos Grabando
(We're recording you)
Video
Los disfrazados de la revuelta
(The disguised revolt)
Video
Repositorio
(Repository)
Installation. Documents printed on paper, drawings, aluminum prints and model
Chile, mi país
(Chile, my country)
Video
2020-2023
Tótem
(Totem)
Environmental installation. Digital printing on large format fabrics intervened with paint
2020
Láseres x perdigones
(Lasers x buckshots)
Installation of lasers and aerial buckshots
2020-2023
Trauma ocular
(Ocular trauma)
Video
Historia/Histeria
(History/Hysteria)
Video installation. Digital printing on fabric, metal supports and video projection
Sindemia
(Syndemic)
Video
PHOTOS: Rodrigo Merino