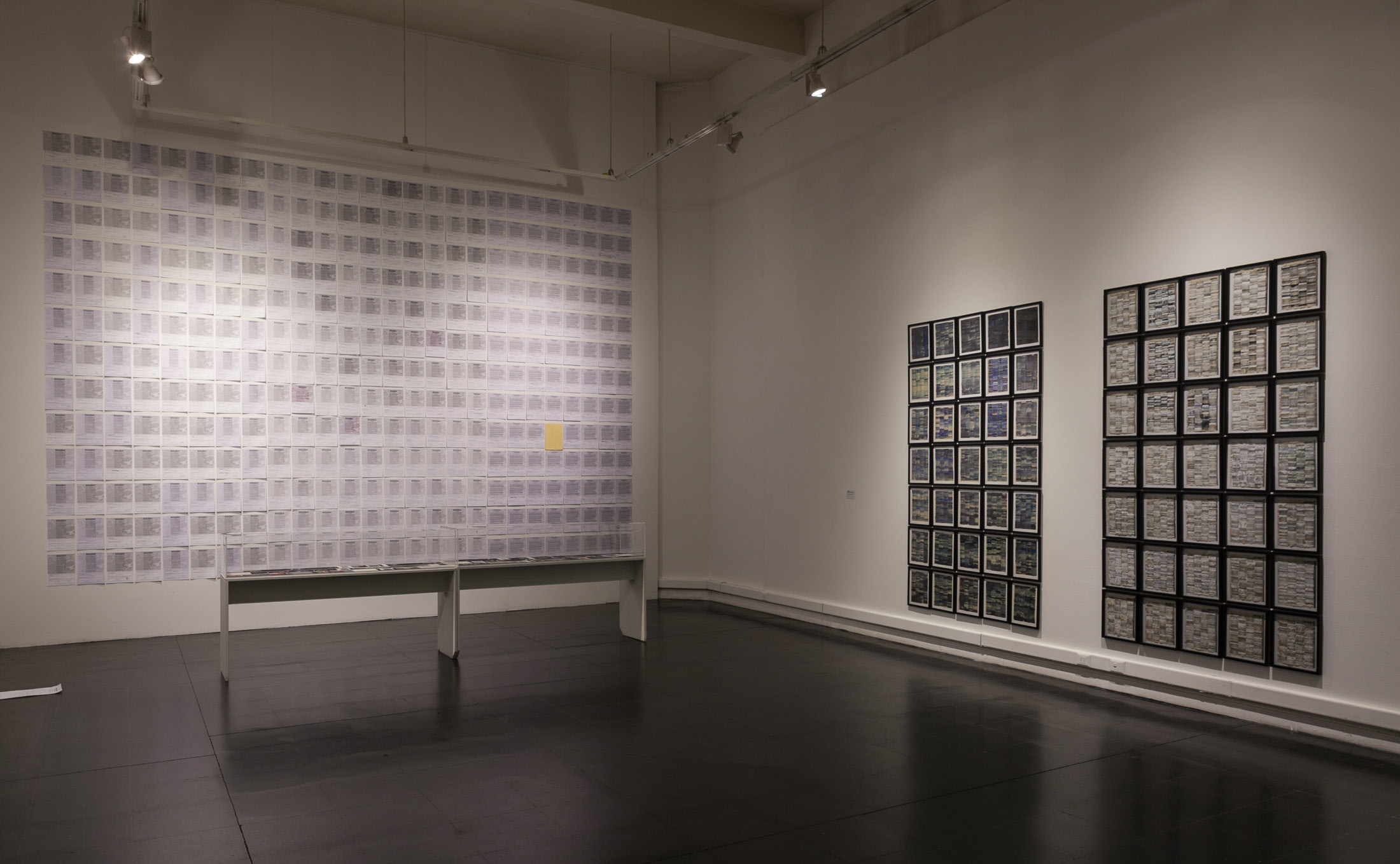 Biblioteca de la No-Historia
The first Biblioteca de la No-Historia consisted in the intervention of three Ulises Bookstores in Santiago with "books" containing these files classified as secret, and that, when declassified and removed from that condition, presented two main charactheristics: first, the large volume of information (allegedly Chile is the foreign country about which the U.S. has declassified more files); and secondly, the large amount of censorship they present expressed through the black blocks of a censor's marker. Two conditions that led me to decide for this material device "books", exhibited and available to the public in bookstores, and that could be taken in exchange for an answer to the question: "what space will you assign to this book?" and later "what will you do with this book?.
The hypothesis which led to the first piece of this series in 2011 was the despair of verifying that after 10 years of its declassification, the information from those files was not part of documents consulted and contrasted to write the historical "versions" of Chile on the accounts from the 60s, 70s, 80s, and 90s.
Thus -that is why I say despair- in a hysterical-historical gesture, I formally decided to transform into "books" some archive material which was not part of the history books. I understand books as a result of the piece of an author or a discipline, on human affairs which move us and we care about, i.e., a book is a civilization exercise to fight barbarism. Whereas a file only entails the possibility of using information which may or may not be useful to create knowledge. In this sense, the file is a piece of material generated by barbarism, thus it is a raw, crude and infamous material.
The Biblioteca de la No-Historia/PRUEBA DE ARTISTA, intends to articulate and make visible, by placing this piece at the Nicanor Parra Library, at Diego Portales University (UDP), the traumatic persistence originated in the incompleteness of recent Chilean history, which this piece seeks to highlight, but also accept and heal.
The Biblioteca de la No-Historia/PRUEBA DE ARTISTA is a continuous intervention of the empty shelves in the library, with 330 "books" which compile the files related to Chile declassified by the American government, spanning from 1968 to 1992, which was named "CHILE DECLASSIFICATION PROJECT", between 1998 and 2000.
Museo de Arte Contemporáneo (MAC)
COLLECTIVE EXHIBITION "SI TÚ VIVIERAS AQUÍ" (IF YOU LIVED HERE)
CURATED BY: MONSTERRAT ROJAS CORRADI & MARIAGRAZIA MUSCATELLO
2010
Biblioteca de la No-Historia/PRUEBA DE ARTISTA
(No History's Library/ARTIST TRIAL)
330 books which compile the files related to Chile declassified by the American government, spanning from 1968 to 1992 displayed in showcases
2010-2019
Biblioteca de la No-Historia
(No History's Library)
338 forms and two paper rolls with answers from previous versions and photographs digitally printed on paper, displayed in a showcase